A
revived and growing automotive industry along with an overall strengthening in manufacturing made 2011 a banner year for robotics sales in North America. New statistics released by the Robotics Industries Assn. (RIA) last week (Feb. 2), showed a total of 19,337 robots valued at $1.7 billion were sold to companies in North America, beating the previous record of 18,228 robots sold in 2005.
Compared to 2010, North American orders were up 47% in units and 38% in dollars. According to Paul Kellett, Director of Market Analysis for RIA, "Robots sold to automotive component suppliers in North America jumped 77% over 2010, while robots sold to automotive OEMs increased 59%."
Sales to non-automotive customers grew 28% led by metalworking industries (up 56%) and semiconductor/electronics/photonics (up 24%).
In terms of applications, big increases in robotic sales were seen in spot welding (up 78%), arc welding (up 66%), assembly (up 93%), coating and dispensing (up 42%), and material handling (up 30%).
The fourth quarter of 2011 was the strongest quarter ever recorded by RIA since it began reporting data in 1984, in terms of units ordered with 5,721 robots (up 61%)
valued at $316.5 million, a 40% increase over the same period in 2010.
"We sensed this early in the year when we had a very strong Automate 2011 show in Chicago in March," noted Jeff Burnstein, President of RIA. "Current users were telling us they were looking to purchase more robots, vision systems and related products, and people who had never purchased a robot were showing strong interest in near-term purchases."
Additionally, Burnstein commented that robot suppliers and integrators told the RIA they were "running full-out to meet customer demand." One of the limiting factors for these suppliers was a shortage of qualified application engineers and other technical people needed to develop and integrate new applications.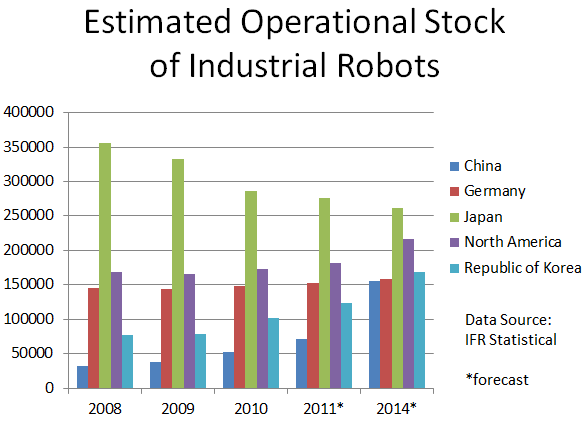 John Dulchinos, President and CEO of Adept Technology, a robotics manufacturer in Pleasanton, CA, and Chair of RIA's Statistical Collection Committee, saw another factor driving demand for robotics. "The decision by many U.S. manufacturing companies to keep manufacturing at home by automating, and in some cases bringing back manufacturing that had previously been sent overseas, also drove sales in 2011."
RIA estimates that some 213,000 robots are now in use in U.S. factories, placing the U.S. second only to Japan in robot use. "Many observers believe that only about 10% of the companies that could benefit from robots have installed any so far," Bernstein said, adding that he believes a strong economy in 2012 will result in another good year.
"Companies in every industry are now recognizing more than ever before that robotics provide unique benefits in terms of improved quality, productivity, flexibility, time to market, and overall cost savings," Burnstein added. "We believe the future for robotics is very bright."
The record year extended to plastics, with Wittmann Battenfeld reporting that its turnover, which also includes auxiliary and injection molding machine sales, rose 22% in 2011. In November, Engel Automation announced its plans to add 1000-sq-m and staff to its Hagen, Germany automation manufacturing plant, and one month later in December, KraussMaffei followed suit, announcing that its new assembly hall for automation products was already working at full capacity after finishing the tripling of production space earlier that month.